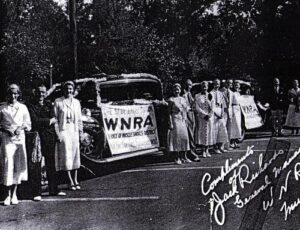 Labor Day Parade 1933, announcing the construction of WNRA
"The Voice of The Shoals" WNRA 94.5 FM serves the Muscle Shoals area of northwest Alabama.  WNRA's call letters stand for the National Recovery Administration, one of President Franklin Roosevelt's New Deal programs intended to bring the country out of the Great Depression.  The NRA was created in 1933 and WNRA 1420 AM signed on the air November 17th of that year, adopting the Administration's "Blue Eagle" logo as its own.  Like most stations, WNRA played a wide variety of music on different programs.  The most popular shows from the beginning were those featuring Old Timey or "Hillbilly" music, as Country was known in the 1930's.
WNRA's FM station originally signed on the air in Muscle Shoals on October 31, 2007 with a two-day remote broadcast from historic area recording studios FAME and Muscle Shoals Sound.  The station was initially on 92.3 FM and broadcast an all-Muscle Shoals music format until 2012. During that time, the station's owner stopped using call letters in favor of positioning the station as "92.3 The Sound." That owner lost the license for 92.3 FM in 2012, and the AM station fell silent in December 2014.
NAHF, Inc. applied for and received the 92.3 FM license in 2014, and the station signed back on as WSHF 92.3 FM on June 22, 2015 and continued as "The Sound of The Shoals" with a locally-focused format.
In 2019, 92.3 moved up the FM dial to 94.5 FM in order to eliminate interference from a co-channel station in Tennessee.
Following the demise of AM station WNRA in Eufaula, Alabama, the station changed its call sign to WNRA on July 16, 2022.  By reclaiming the call letters, the station continues a tradition of broadcasting that dates all the way back to November 1933 when WNRA 1420 signed on the air as the first station in northwest Alabama.
Now WNRA is Celebrating 90 Years of Muscle Shoals Radio and looks forward to a bright future as your only Real Country station!
The station proposed to use WMED and WFDR as call letters before settling on WNRA prior to signing on the air.
WMED was proposed to honor Martha E. Danby, wife of one of the station owners.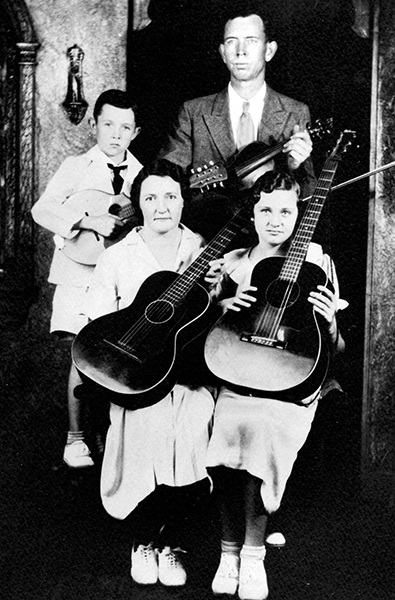 The Loden Family was one of the early groups on WNRA in the winter of 1933/34.  Five-year-old Sonny James Loden would go on to a long career in Country music.
WNRA's tower in 1935

FM antenna mounted on tower prior to "92.3 The Sound" signing on in October 2007.